In today's increasingly interconnected and digital world, the significance of Critical Infrastructures CyberSecurity cannot be overstated.
Critical infrastructure is recognized by governments as the body of systems, networks and assets (be that physical or virtual). It is so essential that their continued operation is required to ensure the security of a given nation, its economy and the public's health and/or safety. Essentially, these are assets that are crucial for the functioning of society.
The destruction of these assets would have a debilitating effect on security in all aspects. Additionally, the consequences are so perilous that mitigating any Critical Infrastructure Risks is imperative.
The Vital Role of Critical Infrastructures CyberSecurity
Critical Infrastructures CyberSecurity plays a pivotal role in protecting the recognized body of systems, networks, and assets that are deemed vital by governments. These assets, whether physical or virtual, are of such significance that their uninterrupted operation is essential to ensuring a nation's security, economy, and the well-being of its citizens. Essentially, they are the linchpins for societal functionality.
The repercussions of these assets' destruction would reverberate across all dimensions of security, making the imperative of mitigating any threat abundantly clear. While physical risks still exist, intentional physical destruction is less prevalent today, often arising from natural disasters or diseases. In contrast, virtual threats pose a more profound danger, particularly as our world becomes increasingly reliant on technology.
There are various critical infrastructure risks. Physical risks, although still pertinent, are not as frequently carried out with intention. Physical destruction, today, is mainly unintentional and can be a result of dramatic weather conditions or diseases. Virtual threats, however, are much more perilous as the world increasingly becomes more reliant on technology.
Critical infrastructure is the perfect target for governments that want to cause mass damage to their adversary and, as such, these types of attacks are often attributed to state, or state-sponsored, actors. Types of virtual attacks include malware attacks, such as ransomware attacks, and data breaches. The consequences of a cyberattack on critical infrastructure, even momentarily, would be substantial and there would be a ripple effect into numerous aspects of society. Importantly, some critical infrastructure (e.g. transport, water, and agriculture) relies on others (e.g. power and energy), increasing the impact of an attack.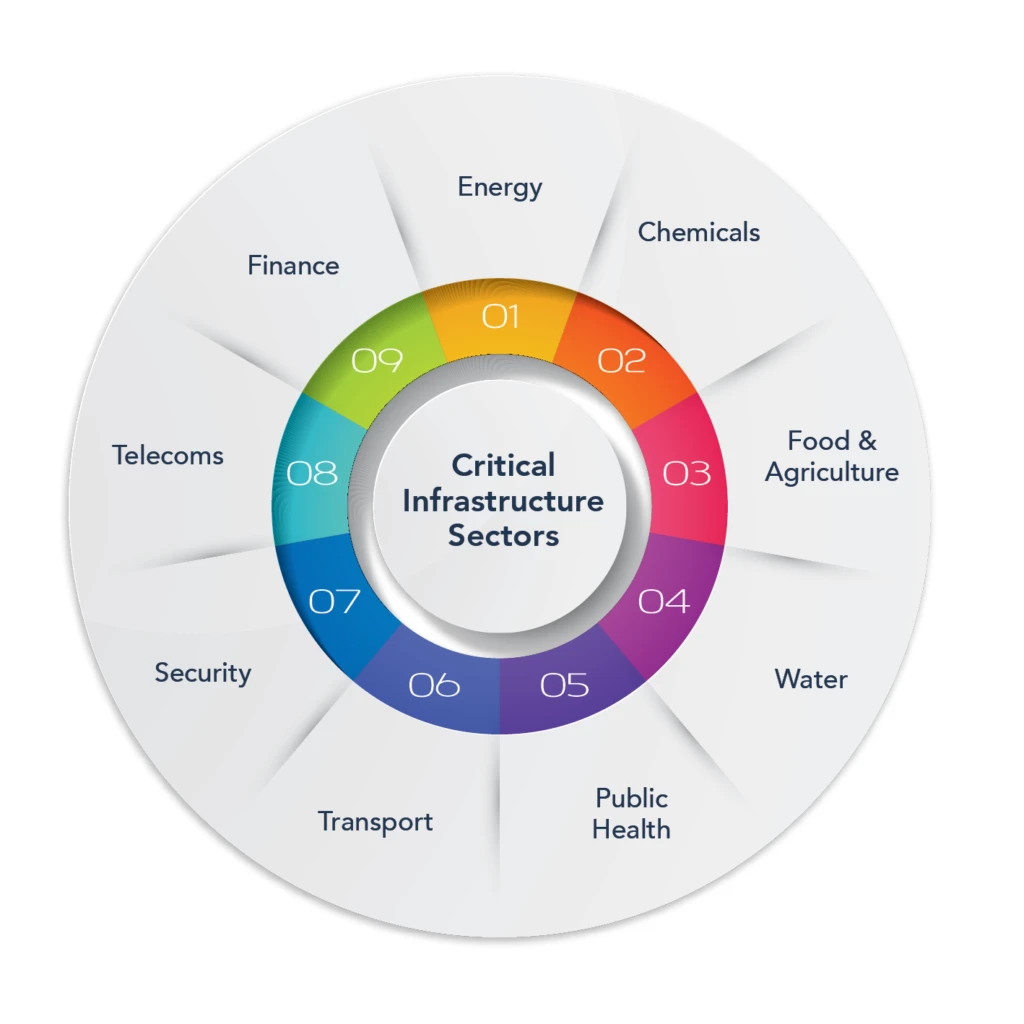 The Complex Landscape of Critical Infrastructures CyberSecurity
The vulnerability of Critical Infrastructures CyberSecurity is exacerbated by the presence of outdated systems. Programmable logic controllers (PLCs), integral components in various critical infrastructure sectors, often lack proper security measures due to their age. These legacy systems were not initially designed with online security in mind, rendering them susceptible to cyberattacks. Similarly, power facilities rely on antiquated technology that wasn't constructed with cybersecurity considerations, leaving them inadequately protected.
There is also a lack of attention given to cybersecurity within industries of critical infrastructure. New technologies are used to improve efficiency and customer experience. Yet there is little interest given to the fact that bad actors are constantly looking for vulnerabilities to exploit.
The internet of things (IoT) is being more commonly implemented by owners of critical infrastructure. With around a third of the 25 billion IoT devices in the world being used to monitor and control infrastructure. However, this increases the number of entry points for an attack to be carried out. Since they are connected to the network (IoT Security). Furthermore, the importance of critical infrastructure makes attacks more likely to be successful, specifically ransomware attacks.
The reliance on critical infrastructure by the nation might make owners of facilities more compliant with demands. Finally, the size of the companies that provide critical infrastructure will most likely be very large since they are providing for a whole nation. Such, there are more employees, the biggest risk to any organization. The lack of knowledge and awareness regarding cyberattacks means employees might not take appropriate action to prevent them where they can. There are a large number of employees that can, wittingly or unwittingly, cause a cyberattack and this large number makes it more challenging to identify the perpetrator.
Protect Critical Infrastructures with Asset Visibility
Enhancing Critical Infrastructures CyberSecurity: Achieving Comprehensive Hardware Visibility
Many times, enterprises' IT and security teams struggle in providing complete and accurate visibility into their hardware assets, especially in today's extremely challenging IT/OT/IoT environment. This is due to the fact that often, there is a lack of visibility, which leads to a weakened policy enforcement of hardware access. This may result in security accidents, such as ransomware attacks, data leakage, etc.
In order to address this challenge, ultimate visibility into your Hardware assets is required, regardless of their characteristics and the interface used for connection as attackers. Moreover, it is important to be practical and adjust to the dynamic cybersecurity defenses put in place to block them, as well as take advantage of the "blind" spots – mainly through USB Human Interface Device (HID) emulating devices or Physical layer network implants (BadUSB).
Hardware Security and Physical Layer Visibility
Empowering Critical Infrastructures CyberSecurity with Sepio
Sepio's HAC-1 solution provides entities with the Physical Layer coverage they need to obtain complete device visibility. In doing so, HAC-1 protects against hardware attacks. As the leader in Rogue Device Mitigation (RDM), Sepio's solution identifies, detects and handles all peripherals; no device goes unmanaged.
In addition to the deep physical layer visibility, a comprehensive policy enforcement mechanism recommends on best practice policy and allows the administrator to define a strict, or more granular, set of rules for the system to enforce. Such capabilities enable a zero trust hardware access approach, and when a device breaches the pre-set policy, HAC-1 automatically instigates a mitigation process that instantly blocks unapproved or Rogue hardware. Give us just 24 hours to show you that we're the player your team is missing for a clean sheet.
See every known and shadow asset. Prioritize and mitigate risks.
Talk to an expert. It will help you understand how to use Sepio's patented technology to gain control of your asset risks.
Download Solution Brief