Zero Trust Security for Federal Agencies and the nation's critical infrastructure – such as energy, transportation systems, communications, and financial services – depend on IT systems to carry out operations and process essential data. But the risks to these IT systems are increasing including insider threats from witting or unwitting employees, escalating and emerging threats from around the globe, and the emergence of new and more destructive attacks.
As per GAO's recommendation – Establishing a comprehensive cybersecurity strategy and performing effective oversight with regards to mitigation of global supply chain risks and possible malicious hardware is of the utmost importance, further emphasized by section 889 directive. Tackling this challenge requires complete visibility to your Hardware assets, regardless of their characteristics and the interface used for connection, as attackers take advantage of the "blind" spots. Mainly through Human Interface Device (HID) bad USB devices or Physical layer network implants. These challenges are also supported by the Comply-to-Connect and various Zero Trust Security guidelines.
Implementing Zero Trust Security and securing your network assets at the hardware layer by using a field-proven solution developed by Sepio, will be the first step in bringing your cyber security posture to the next level.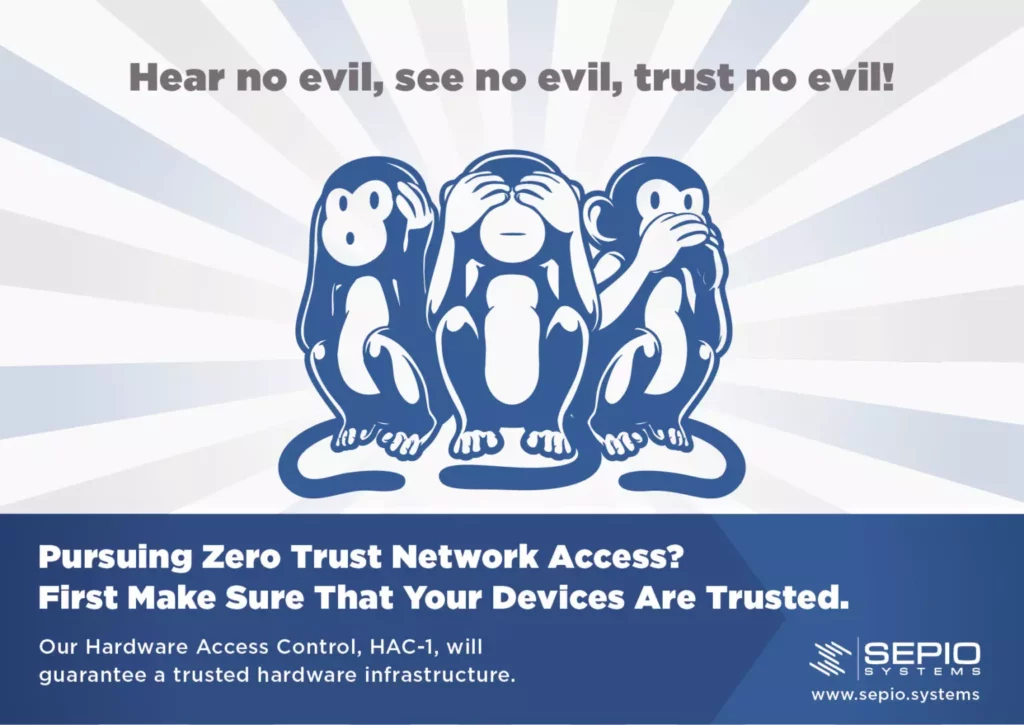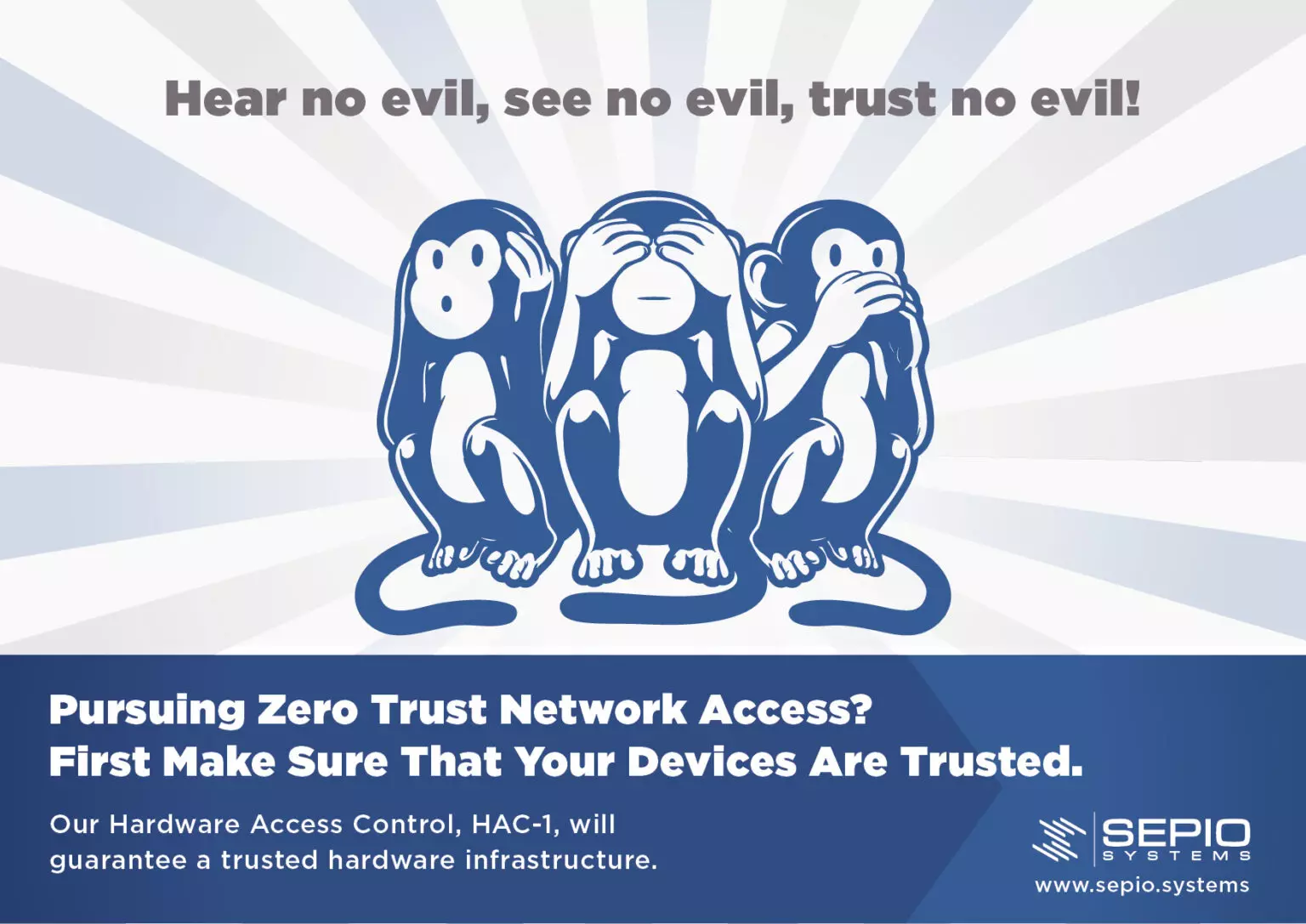 Key Challenges
Total visibility is required to account for all of the agencies' IT/OT/IoT assets – Knowing what you have, verifying what you own and only then trusting it. Spoofed devices, physical layer implants, "hiding" in the physical layer, or impersonating as legitimate devices while sharing the same logical identification are hard to identify using existing technology. Rogue wireless AP's that can be used for attacks both in the enterprise and remote working security risks environment underscore the importance of Zero Trust Security.
Sepio Zero Trust Hardware Access
Sepio's solution uses a unique algorithm based on physical layer fingerprinting module augmented by Machine Learning techniques. The unique approach allows Sepio to discover and report ALL devices, rogue devices included, enforce usage policies, deliver risk insights and device scoring, all within the context of Zero Trust Security.
By enabling organizations full visibility of their IT/OT/IoT assets, a stronger cybersecurity posture and true Zero Trust Hardware Access methodology are achieved with the following highlights:
Asset visibility
Policy management
Device risk scoring
Risk insights & actionable playbook
Embedded Device Threat intelligence database
Extensive device hunting, IR & Forensic features
Fully integrated with popular orchestration & automation products
Main Benefits of Sepio
Complete Visibility of all Hardware Assets
With all devices and anomalies detected, enterprises benefit from a greater overall cybersecurity posture. Gaining full visibility of all hardware devices from endpoint peripherals to connected devices (IT/OT/IoT), Sepio uses unique physical layer visibility hardware fingerprinting technology and data augmentation from endpoints and networks, aligned with Zero Trust Security.
Full Control through Predefined Policies
Enterprise-wide policies enable compliance, regulation and best practices.
With predefined templates and no base lining or whitelisting, and no requirement for a clean environment start, Sepio provides a fast and easy setup.
Rogue Device Mitigation (RDM)
Threat mitigation upon the discovery of rogue or threatening devices is a critical aspect of Zero Trust Security. Integrations with existing security platforms such as NACs and SOARs for mitigation and remediation enhancements.
See every known and shadow asset. Prioritize and mitigate risks.
Talk to an expert. It will help you understand how to use Sepio's patented technology to gain control of your asset risks.
Download Solution Brief