Financial Institutions Cyber Attacks are on the rise. Cyber crime organizations have financial institutions as their prime targets due to their importance in national economies. Cyber threats are 300x more likely to target the financial services industry than companies in other sectors. When targeted, most often a financial institution will suffer from severe data theft causing a substantial financial loss of up to hundreds of millions of dollars.
Main Benefits
Risk & Compliance
Achieving a higher level of risk management compliance
Data Access
Safeguarding the access to sensitive data.
Secured Payment Transfer
Securing payment systems (internal and SWIFT) countering payment heists.
Hardening ATMs
Elevating your ATMs network cybersecurity posture.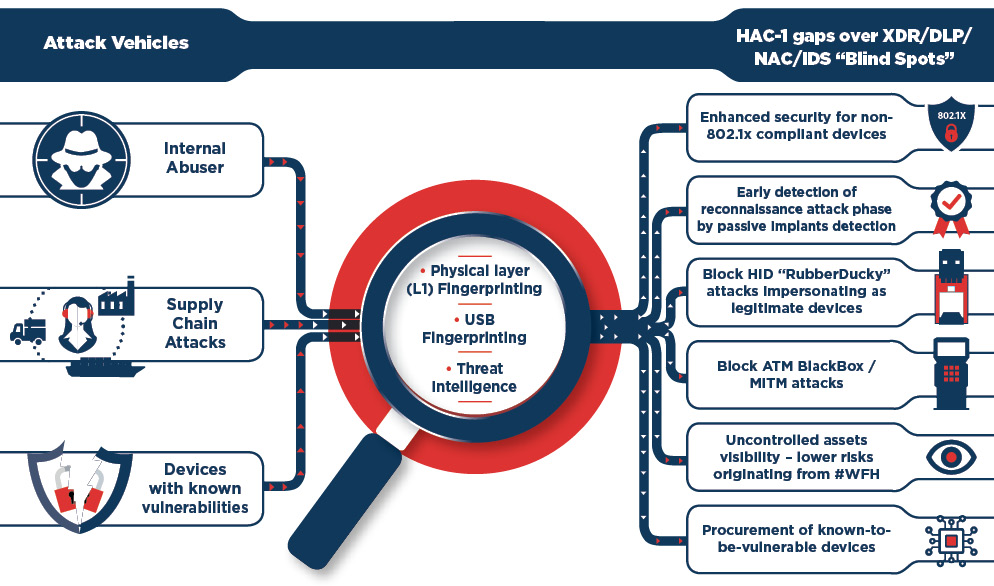 Resource
Invisible Network Devices
A Tier 1 bank audit revealed some irregularities and it became evident that an external party had continuous access to the internal and secured parts of the network. An investigation started…
BLOG
ATM Black Box Attacks
ATM attacks are on the rise. These attacks pose a real threat, they are carried out by simple devices, known as black boxes.
Financial institutions cyber attacks
Sepio Systems Hardware Access Control HAC-1, provides 100% hardware device visibility.
HAC-1 enables Hardware Access Control by setting rules based on the devices characteristics.
HAC-1 instantly detects any devices which breach the set rules and automatically block them to prevent malicious attacks.
The idea is to verify and then trust that those assets are what they say they are to prevent financial institutions cyber attacks.
Sepio Systems HAC-1 brings the ultimate solution to zero trust adoption by providing 100% hardware device visibility.
With greater visibility, the zero-trust architecture can grant access decisions with complete information.
Thus, enhancing the enterprise's protection within, and outside of its traditional perimeters.
The Hardware Access Control capabilities of HAC-1, block Rogue Devices as soon as they are detected
Sepio Systems' HAC-1 solution stops an attack at the first instance, not even allowing such devices to make network access requests.
Critical infrastructure protects the nation, HAC-1 is here to protect critical infrastructure.
Embracing Zero Trust Hardware Access in financial institutions is key to maintaining a good cybersecurity posture.