In mid-2021, President Biden issued an Executive Order (EO) focused on improving cybersecurity within the Federal Government. The EO instructs Federal agencies to migrate to a zero trust architecture (ZTA), in which the assumption is that threat exists everywhere; both within and outside the entity's traditional perimeters. As described in the Department of Defense Zero Trust Reference Architecture, "The foundational tenet of the Zero Trust Model is that no actor, system, network, or service operating outside or within the security perimeter is trusted. Instead, we must verify anything and everything attempting to establish access.".
Recently, the Office of Management and Budget (OMB) released a strategy guiding the US Government towards a ZTA. With access control being an essential component of an effective ZTA, the OMB's memorandum emphasizes the need for complete device visibility; something that entities – both federal and private – struggle to achieve. The memorandum specifically states that "tightening access controls will require agencies to leverage data from different sources to make intelligent decisions, such as analyzing device and user information to assess the security posture of all activity on agency systems".
Lastly, below is a table highlighting the ways in which Sepio's Hardware Access Control (HAC-1) solution can assist Federal agencies in achieving a comprehensive ZTA through complete device visibility and a focused analysis of device behavior based on the specifications of the strategy.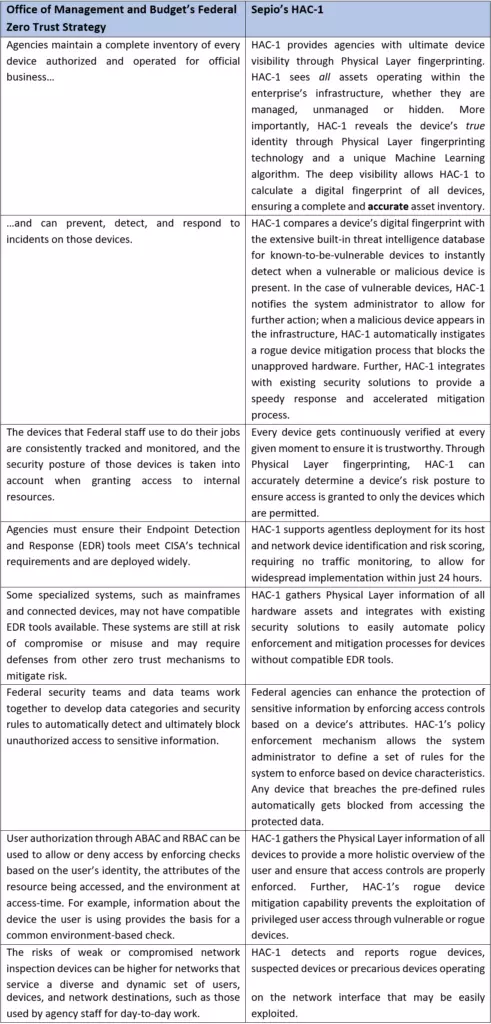 Device Visibility
Firstly, Sepio's Hardware Access Control HAC-1, provides 100% hardware device visibility.
Furthermore, HAC-1 enables Hardware Access Control by setting rules based on the devices characteristics.
Additionally, HAC-1 instantly detects any devices which breach the set rules and automatically block them to prevent malicious attacks.
Lastly, the idea is to verify and then trust that those assets are what they say they are to prevent financial institutions cyber attacks.